Clean and Unclean Animals in the Bible
There seems to be a lot of confusion about what the Bible means when it speaks of clean and unclean foods.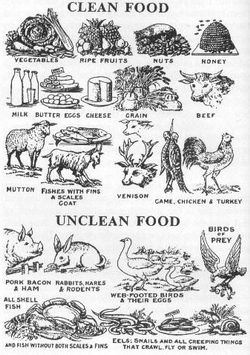 Put very simply, these are the Bible's dietary laws that if followed can lead to a long and healthy life. The question is: Can we trust the ancient words of the Bible? And what about modern science. Does it support or discredit God's dietary laws?
I have found that there are many Christians today who are unaware that the Bible states that our bodies are not our own and that they were bought with a price which was the death of Christ. Scripture also informs us that it is our responsibility to look after these bodies that are on loan to us. But sadly, these are facts that many would rather not acknowledge. Most would rather the well known sea food diet, that is, everything and anything we see that appeals to our eyes and nose. Unfortunately, these are foods that are often very damaging to our bodies and result in us dying from cancer and heart attacks because of our love for food! Most people live to eat rather than eat to live as God intended. Note the following relevant scriptures.
1 Corinthians 6:19-20 "What? Know you not that your body is the temple of the Holy Ghost which is in you, which you have of God, and you are not your own? 20 For you are bought with a price: therefore glorify God in your body, and in your spirit, which are God's."
And 1 Corinthians 10:31 "Whether therefore you eat, or drink, or whatsoever you do, do all to the glory of God."
Do we defile our bodies if we knowingly eat foods laced with chemicals that can make the body sick and die? Sadly, most of us do and without any fear of the following warning.
1 Corinthians 3:17 "If any man defiles the temple of God, him shall God destroy; for the temple of God is holy, which temple you are."
It is easy to mock God's Word and say it has no relevance to our physical lives today. But it is amazing though, how very interested someone can become in what God has to say when lying on a deathbed because of a decadent lifestyle. Sadly, it is usually too late to effect changes in their lifestyle by that time.
It is better to stay in denial, right? When we find ourselves lying in a hospital bed and dying, then we say, "I don't want to die! I better change to a healthy diet so I might live. Please someone, tell me what should I do and eat so that I can beat this illness and live?"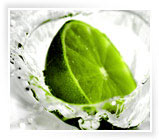 God already told us what to eat when he gave us His dietary laws with clean foods and unclean foods, but most do not care to listen and mock God's instructions until they suddenly find themselves on their deathbed wondering how they got that way! If only we had listened in the first place.
Here are some interesting points which show us what God's health plan for us is:
1. When God created Adam and Eve in the Garden of Eden, He said to them:
Genesis 1:29-30 "I give you every seed-bearing plant on the face of the whole earth and every tree that has fruit with seed in it. They will be food for you. And to the BEASTS of the earth and all the BIRDS of the air and ALL THE CREATURES that move on the ground--everything that has the breath of life in it--I give EVERY GREEN PLANT for food. And it was so."
Seed-bearing plants include nuts, grains, legumes, and seeds. Our digestive tract is 12-14 times our shoulder to hip trunk length, the same as fruit eating animals. Herbivores (for example, cattle) have a digestive tract length of 20 times their body length. The shortest intestinal tracts are found in meat eating animals.
When mankind left the Garden of Eden, vegetables were added to their diet. Genesis 3:18 tells us that the "plants of the field" were now to be considered as food. Interestingly, fruit can be eaten with nuts, grains and seeds without any ill effects, but if eaten with vegetables can lead to digestive problems. There is fermentation in the gut when fruit and vegetables are eaten together and this can lead to health problems.
2. The distinction between clean and unclean animals was known about in Noah's day, long before God gave the health laws to the Jewish people:
Genesis 7:2-3 "Of every CLEAN beast thou shalt take to thee by sevens, the male and his female: and of beasts that are NOT CLEAN by two, the male and his female. Of fowls also of the air by sevens, the male and the female."
3. After the great Flood of Noah's day, meat was permitted in the diet, however the blood was not to be eaten:
Genesis 9:3-5 "Every moving thing that is alive shall be food for you; I give all to you, as I gave the green plant. Only you shall not eat flesh with its life, that is, its blood."
It is clear however that there was a distinction between clean and unclean animals. Unclean animals were not even considered as fit to eat. It is understood that only clean meats were to be used as food, as there were more of them in the ark. (Genesis 8:20 "Noah took of every clean beast and every clean fowl, and offered burnt offerings." If unclean meats were to be eaten and sacrificed, there would not be a pair of them left to propagate, to enable the command in verse 17: "Bring forth with thee every living thing that they may breed abundantly in the earth.")
4. God clarified the differences between clean and unclean creatures, in Leviticus chapter 11: "Whatever divides a hoof, thus making SPLIT HOOVES AND CHEWS THE CUD, among the animals, that you may eat. …These you may eat, whatever is in the water: all that have FINS AND SCALES, those in the water, in the seas and in the rivers, you may eat…. These moreover, you shall detest among the birds; they are not to be eaten: the eagle, vulture, buzzard, kite, falcon, raven, ostrich, owl, seagull, hawk, pelican, vulture, stork, heron, hoopoe and the bat. …These you may eat among all the winged insects: those which have above their feet JOINTED LEGS with which to jump on the earth..."
Professor Walter Veith is a doctor of Zoology with a research field in nutritional physiology. He reveals some very interesting things about unclean animals.
The physiology of some birds, animals and fish is such that their flesh is not fit for consumption. This includes carnivorous birds without a crop, animals which don't chew cud or have a cloven (split) hoof, and fish without fins or scales. All animals which eat other animals are unclean.
Camels have a high level of toxins in their bloodstream, caused by retaining their body fluids rather than sweating. Coneys have a poor thermo-regulator and their enzymes are unstable, resulting in intestinal fermentation. The meat is very acidic, predisposing to disease. Rabbits are coprophagous, meaning that they eat their own faeces, and the levels of toxins in their bodies are much higher than acceptable for human consumption. All rodents and the horse are the same.
Pigs have very high histamine levels and sulphur content, leading to high blood acidity and osteoporosis in those who eat them. Pigs also have a high level of bacterial contamination of salmonella, other harmful bacteria and parasites. These are just a couple of brief points but you will find a lot more on page two.
Fish without fins and scales are either scavengers or carnivores and have a high level of toxins in their bodies. Urea in sharks and other fish gives these creatures a distinctive flavor but the flesh is not healthful in the diet.
God has known these things from the beginning of time. Although we may not know all the reasons behind His commands, He knows what's best for us. After all, He made us and He knows what we should put into our bodies. We are very particular as to what kind of fuel we put into our cars. Why aren't we more careful about what we put into our mouths?
5. Colossians 2:16 is often quoted but is often wrongly translated and very misunderstood. Modern Bibles mistranslated this passage as they did not understand Meat and Drink offerings were part of the ordinances, and so translated them as "food and drink." There are no unclean drinks in the Bible, only unclean foods! These also had no relationship to the ordinances that were nailed to the cross, but the Meat and Drink offerings did.
Thus the ordinances of Colossians 2:16 did have and must have all of the following, "Meat and Drink Offerings", "Holy Feast days", "New Moon festivals" and "ceremonial Sabbath days" such as Passover and others. Compare Ezekiel 45:17 and Colossians 2:16.
It is easy to recognize WHICH law Colossians 2:14-16 is referring to. It is not the Ten Commandment Law (law of liberty, written with the finger of God on stone), which had nothing to do with meat and drink offerings, new moons, holy feast days and the ceremonial sacrificial Sabbaths. This passage also has nothing to do with health laws. It is obviously referring to the Mosaic Law, which was handwritten by Moses and could be "blotted out." This was the only law with ordinances which pointed forward to the sacrifice of Jesus. These ordinances were no longer necessary when the real Passover Lamb was slain.
Dietary laws are laws for health, not "ceremonial" or "ritualistic" laws, although they are mentioned in Leviticus. They are not therefore included when the Lord "nailed the handwriting of ordinances which was against us" to His cross. See Colossians 2:16 for more detail.
6. Regarding Mark 7:1-23 Mark's statement that Jesus declared all foods "clean," does not mean that He abolished the distinction between clean and unclean meats. (Unclean meats were not even regarded as "food"!) And the discussion between Jesus and the Pharisees and scribes had nothing to do with the KIND of food but with the MANNER in which the disciples ate. The Pharisees had man-made rules about washing of hands (beyond hygienic levels). The issue was whether or not ritualistic washing of hands before meals was necessary.
Jesus said that what defiles a person is not the food eaten with ritually unwashed hands, but the wicked things from the heart, because the food "does not enter his heart but his stomach, and is eliminated". Thus Jesus declared that all foods eaten with ritually unwashed hands are spiritually "clean" (Mark 7:19). The Greek word for food (bromata) here used, is the general term for food, referring to all types of food for human consumption, not just flesh foods.
7. Peter's vision in Acts 10 of the animals did not teach that unclean animals had become fit for food.
If Jesus had previously authorized unclean animals for food, what was Peter doing refusing them at this late stage? Obviously Jesus had never done this. And the vision could not have been simply an instruction about clean VS unclean meats, for Peter was "greatly perplexed about the meaning of the vision." He knew there was a deeper meaning to the vision. Peter quickly came to understand that the vision taught that GENTILES were not unclean, and that he could associate with them without becoming contaminated:
Acts 10:28 "You know how unlawful it is for a Jewish man to keep company with, or go to one of another nation. But God has shown me that I should not call ANY MAN common or unclean"
And by continuing to read, we come to a place where Peter tells the whole story, leaving no doubt that this was the real meaning of the vision. (Note, in Acts 11:2-18 that Peter says nothing about unclean foods now being acceptable to eat - because that had nothing to do with the vision).
So here in the very next chapter we see that the vision was to tell Peter that the Gospel was now for the Gentiles as well. This was a very significant point in time. That is why angels and visions were employed to direct the early church. Now the Gospel was to go to the Gentiles and this of course was a very important direction.
8. In his letters to the Romans and Corinthians Paul addressed the implications for Christians of the widespread practice in the Gentile world of offering flesh foods to idols. The issue among the early Christians was not about eating meat as such, (there was never an issue about vegetarianism in the early Christian church), but about whether the eating of meat offered to idols was an act of worship. See 1 Corinthians 8 and 1 Corinthians 10:20-28.
Those strong in their faith did not believe that eating meat offered to idols was an act of worship, and thus they would eat all (edible) things which had been offered to idols. Those who did not have such strong faith used only vegetables, which were not offered to idols. Paul urged:
Romans 14:2 "Accept the one who is weak in faith, but not for the purpose of passing judgment on his opinions. One man has faith that he may eat all things, but he who is weak eats vegetables only."
Romans 14:20-21 "Do not tear down the work of God for the sake of food. All things are clean, but they are evil for the man who eats and gives offence. It is good not to eat meat or to drink wine or to do anything by which your brother stumbles."
This was not a campaign for or against vegetarianism, for vegetarianism was not an issue at this time in history. Unless Paul is contradicting other New Testament scripture than he has to be referring to all clean meats being "clean," which would have been a foregone conclusion in those days and not required clarification. We also have no other Scriptural evidence to indicate that unclean animals had been authorized for food. The latter would NOT have even been considered as edible, whether offered to idols or not.
9. In discussion of end time events, God still calls swine and mice, among other things, "detestable":
Isaiah 66:17 "… who eat SWINE'S FLESH, DETESTABLE THINGS, and mice, shall COME TO AN END altogether, declares the Lord"
10. Some are always bound to quote verses 4 and 5 of the passage 1 Timothy 4:1-5, saying that you can eat anything if "sanctified by the word of God and prayer." But note the context which is found in verse 3 of this passage: "meats, which God hath created to be received with thanksgiving." God did not create unclean animals to be eaten by man and God would never sanctify something He explicitly condemns as an abomination.
So what then is being referred to in the above passage? The answer is found in verses 1-3. The passage refers to "latter times" of a Church that "departs from the faith" and "speaks lies in hypocrisy that has their conscience seared with a hot iron" and that also "forbids to marry, and commands to abstain from certain meats on certain days." So which Church forbids to marry and says you cannot eat certain foods on certain days? Not a difficult question.
Thus this passage is not contradictory to the rest of God's Word and the author is actually saying that every clean creature is perfectly adapted and suitable to its intended purpose. The passage is not saying that everything created can be eaten! Who wants to argue that skunks, rats, mice, lizards and scorpions are good for food?

Why are Pigs Unclean or UnHealthy - Page 2